FITNESS ANNY'S JOURNEY
From social media to cutting-edge software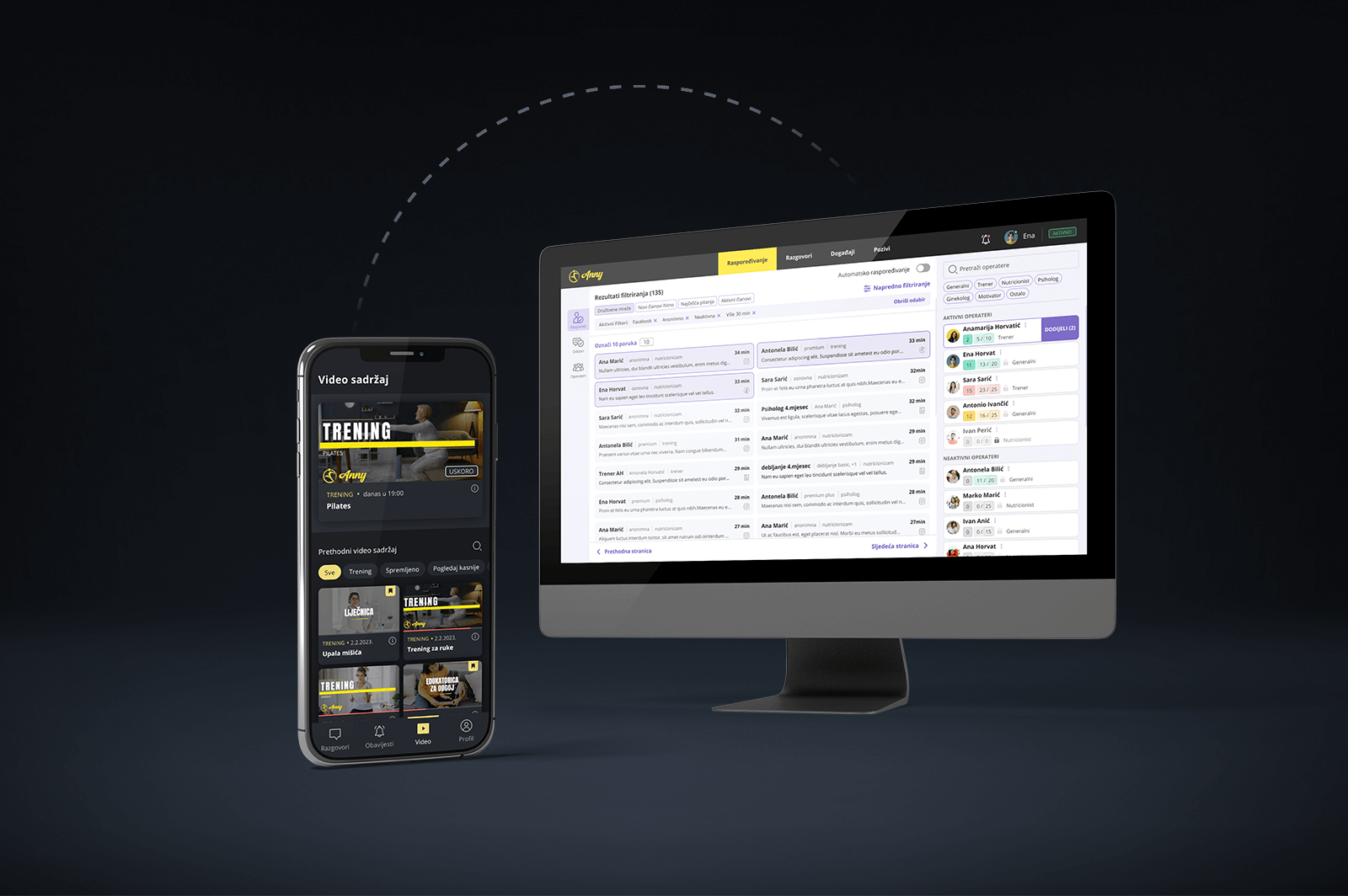 01 intro
Fitness Anny is an online platform that goes beyond fitness.
The traditional workout approach involves hitting the gym, exercising and then leaving. But for Fitness Anny users, it's about more than just working out.
This platform, developed in collaboration with our client, is designed for women. It provides all-day assistance, including nutrition consultations and access to various experts: psychologists, gynecologists, nutritionists, motivators and trainers.
While the workouts enhance your core strength, the core principle of the Fitness Anny platform is user well-being. Ensuring they receive the necessary support to maintain their health.
What makes this platform exceptional is that support isn't limited to the Fitness Anny team alone.
The true beauty of the platform lies in the encouraging voices of thousands of women who motivate each other and share their experiences daily within the integrated chat groups, placing a significant emphasis on community.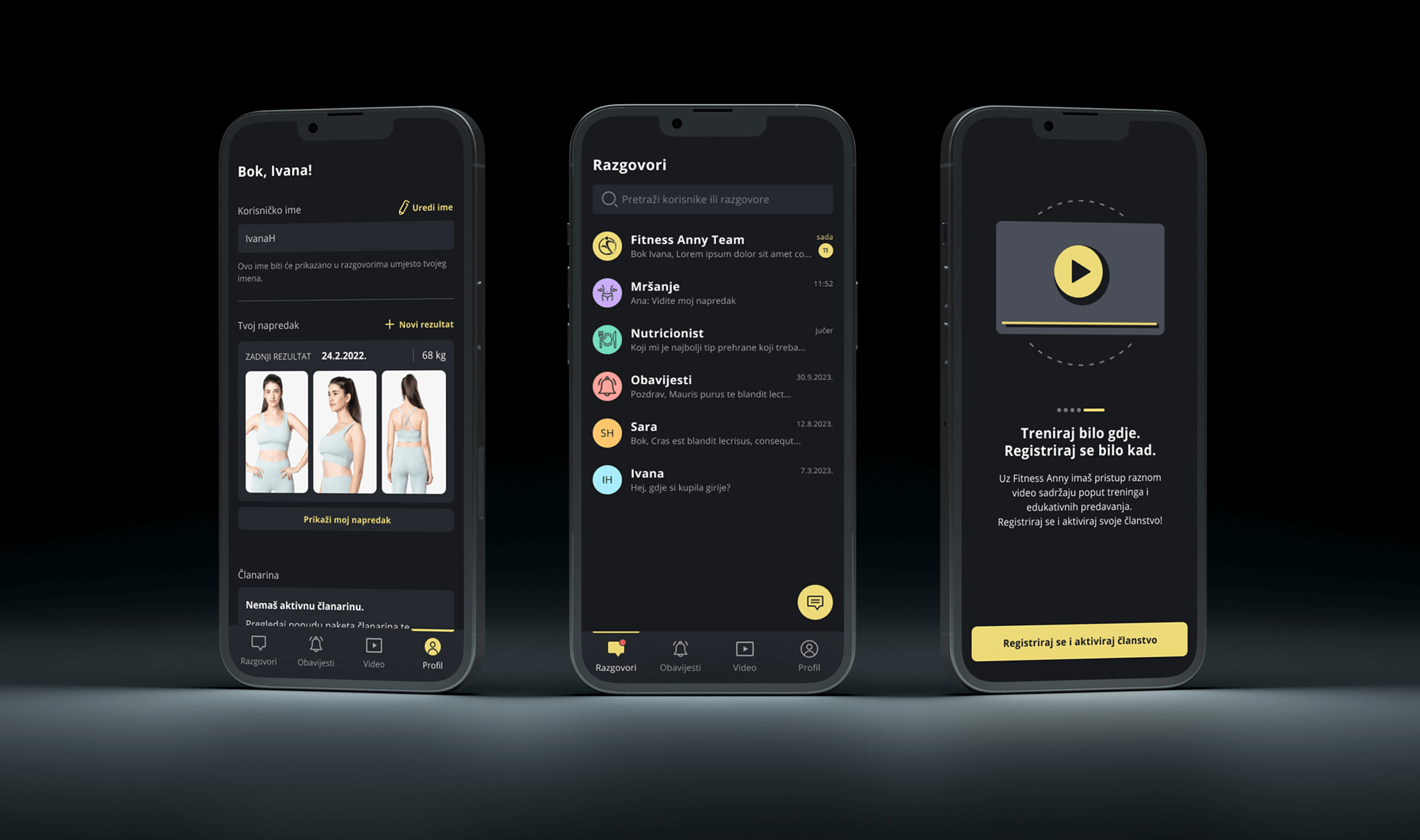 02 ONLINE FIRST
Getting fit at home,
fit for Fitness Anny users
The possibility to train at home, with professional workout programs and guidance, for many people around the world was a game changer. A way to finally reach their fitness goals.
The switch to an online first program for our client Fitness Anny was a real success. So much so that they were overwhelmed with inquiries across their social media channels, mainly Viber, Facebook and Instagram.
Their customer list was getting bigger and bigger, and soon enough it became apparent that they can't keep on running their business through social media.
They needed their own software solution.
03 enter enterwell
Discovering pain points
During the discovery phase we've established two major pain points to solve for our client.
Consolidate content and communication scattered all over the Fitness Anny social media accounts by developing a mobile app as the primary platform for all Fitness Anny-related content and communication.
Improve Fitness Anny internal process by developing a web app that allows administrators to manage and streamline internal tasks more efficiently.
Before we were ready for the development of the apps, we had to make, install and configure the infrastructure behind them.
Infrastructure
Real-time chat, live stream and on-demand videos are complex fields that demand expertise, careful software architecture planning, and precise system implementation and synchronization.
We utilized ejabberd, an open-source platform employed by major companies such as WhatsApp, Swisscom and Nokia for our chat services.
This platform provides us with advanced chat functionalities along with scalability, robustness, security and excellent performance.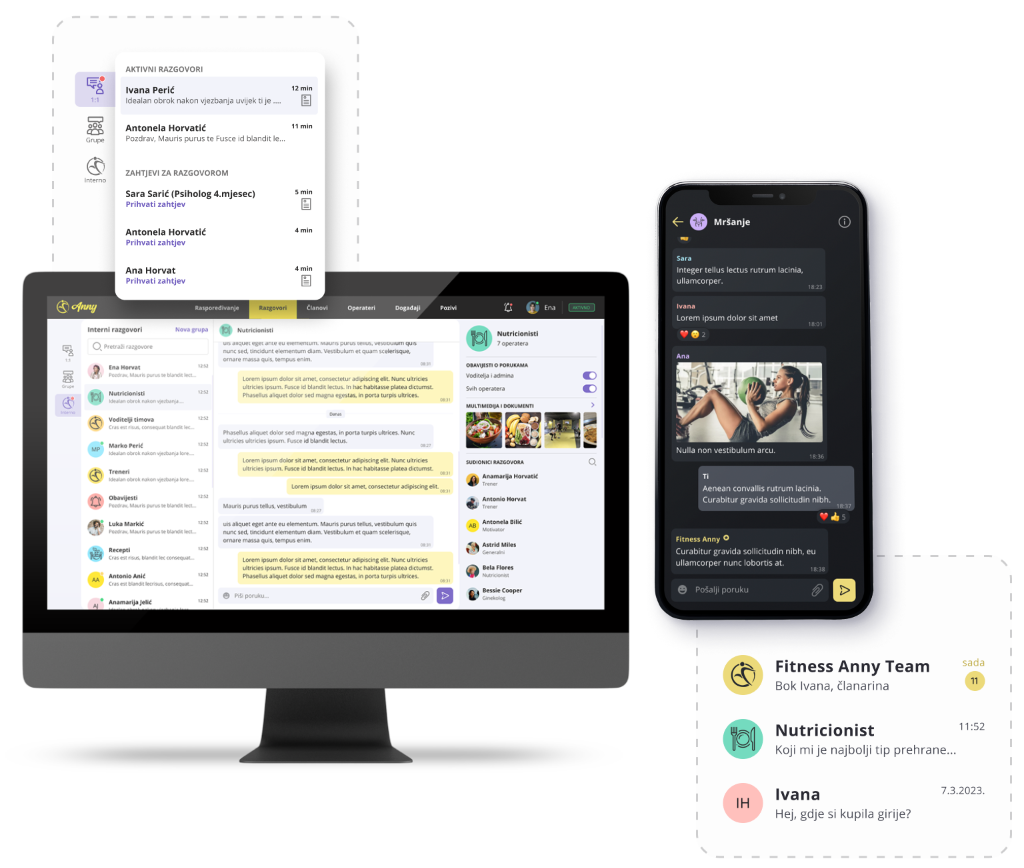 As for all-things video, we've partnered with Vimeo. This partnership enabled us to support the high bandwidth demands set by Fitness Anny. Interestingly, we've already maxed out our annual bandwidth quota in the very first month.
Mobile and web applications
We've crafted not one, but two dynamic applications that share a multitude of functionalities. However, their look and user experience are significantly different.
The mobile app is the ultimate companion for women on a mission to achieve their fitness goals. It's all about results and it's tailored just for them. Meanwhile, the web app is the admin's best friend, designed to keep everything running smoothly.
To keep the entire system sleek, seamless and unmistakably "Fitness Anny", we've introduced the Fitness Anny Design System. This system is a collection of reusable components, coupled with design principles and guidelines.
Put simply, it allowed us to implement new features and make changes quickly, by leveraging the existing components. All while preserving the consistency and recognizability of the Fitness Anny brand.
From day one, Fitness Anny took over all the user traffic that used to flow through social networks. A CI/CD (Continuous Integration and Continuous Delivery) system, which automatically tests, synchronizes, and deploys updates, was essential.
Additionally, the CI/CD system allows our developers to quickly deploy updates, meeting our client's crucial demand for uninterrupted service during deployments and updates.
When you have over 70,000 registered members and 10,000 monthly subscribers like Fitness Anny does, it is a must!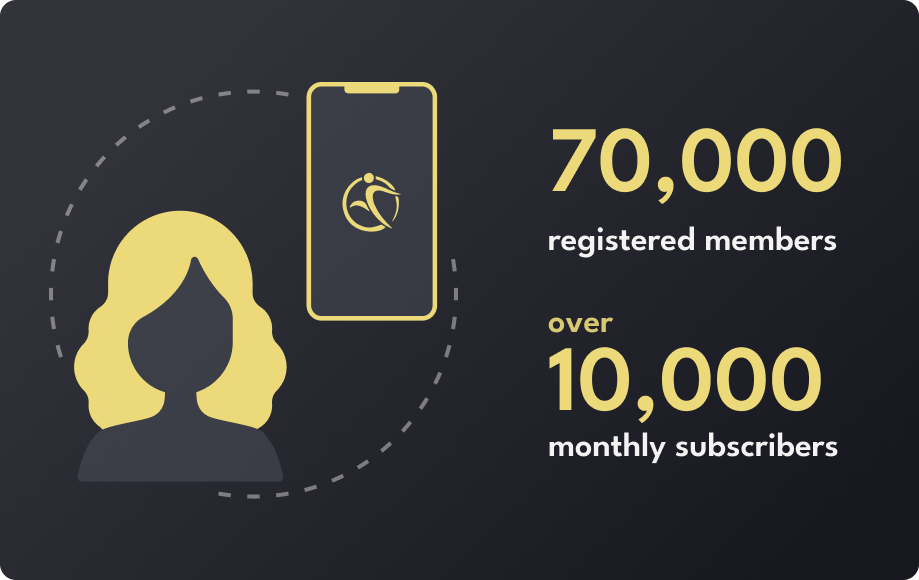 04 RESULTS
Reaping the benefits
This is a project that's continuing to develop and grow, adapting to the ways both sets of users interact with it.
Since the introduction of the application, we've conducted over 500 deployments without deployment-related issues, saving our client over 1,000 hours and a significant amount of money.
Moreover, we've helped our client save countless hours spent scrolling through and answering messages and comments on Viber, Facebook and Instagram.
In addition, Fitness Anny users now have an organized platform where they can track their progress, get the support they need from their peers and experts, as well as access video training sessions.
And they can follow the session from any device!
Regarding the chat feature, our design team followed the best practices established by messaging giants such as Whatsapp. Since the users of the app belong to various age groups, we wanted to use a system they're already familiar with. This way, we minimized the learning curve of the entire app, wherever was possible.
Before the application, our client had 30,000 registered members and 5,000 monthly subscribers.
Numbers are more than doubled now – over 70,000 registered members and 10,000 monthly subscribers – which is a statement to the success Fitness Anny has with this product.
Achieved goals
Make the mobile application the primary Fitness Anny platform.
Make it easy for users to follow and navigate content.
Keep the user informed by introducing notifications and reducing the number of accidental errors.
Simplify updating and tracking one's own progress.
Design and support the entire business process through the admin web application.
Increase the efficiency of the Fitness Anny team.
Optimize the number of channels through which the Fitness Anny team communicates with users.
Design and install a scalable infrastructure to meet all the needs of Fitness Anny.
The team
In order of appearance to the client 😁:
Project lead – Matej Bošnjak
Design lead – Petra Kovačević
Development – Dorijan Hašpl, Dubravko Rittuper, Marko Pacadi, Matej Radović
Copywriter – Lorena Ouahchia
Find Fitness Anny in App store and Google play.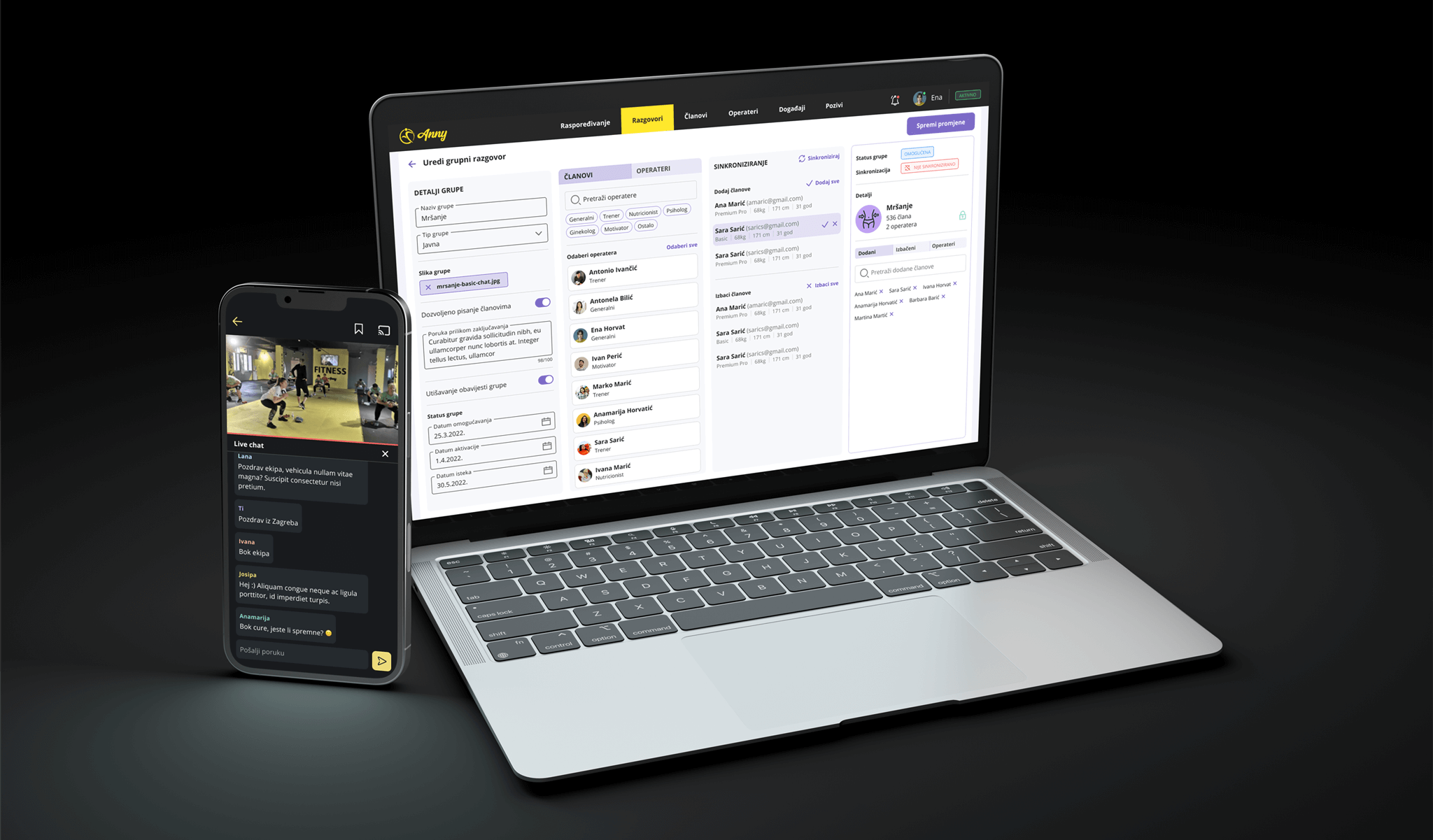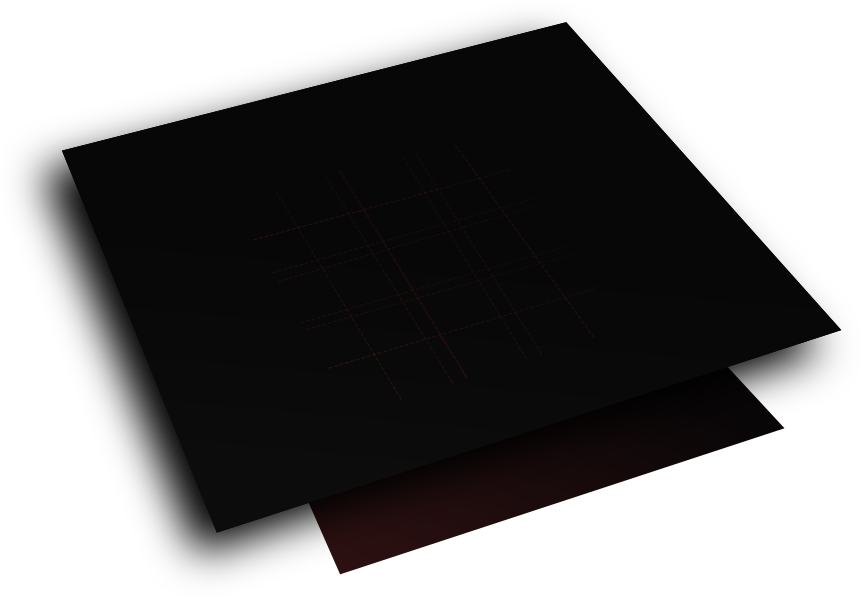 Looking for a partner?
Outline your project, no need to go into much detail.

We will do the rest of the work and send you an obligation-free quote.