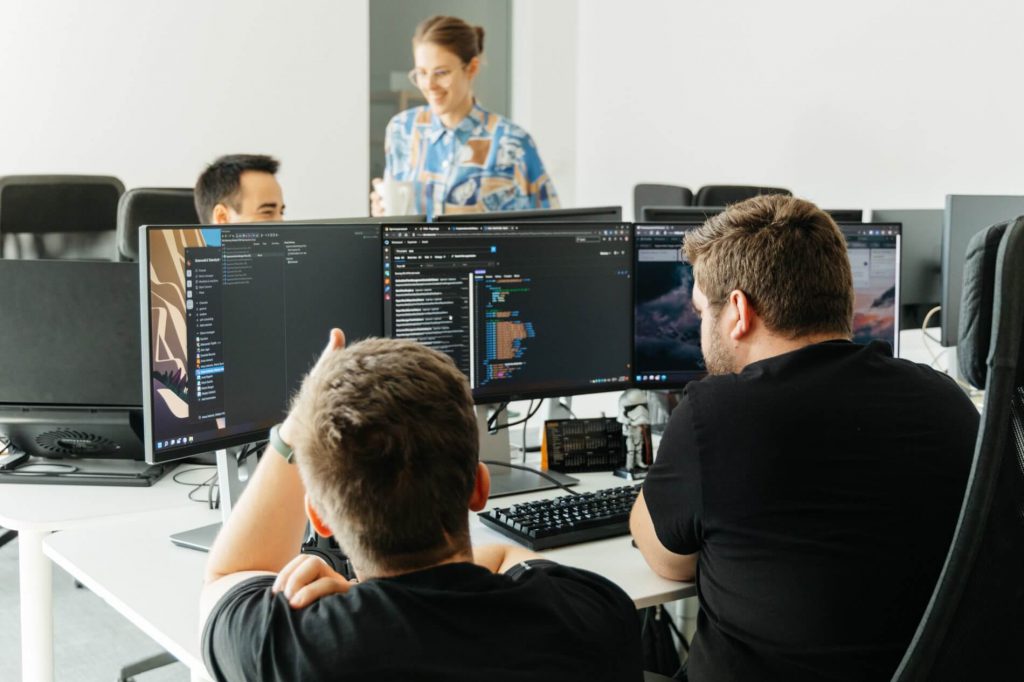 01 GOOD BUSINESS
An enterprise that is doing well
Every company that is doing well, outperforming both the market and their competitors, must have a great product or service that brings value to their customers.
Once the company finds what works, more and more people will be interested in what they offer. So, the company will need to scale.
If the company doesn't have the most efficient business processes in place, a lot of money will be left at the table. People will become overwhelmed and quit their jobs. And customers will be left unsatisfied.
The same goes for marketing. If there are more people who would buy from the company, why not tap into that potential.
Luckily, in the era of software – internet and web – you can make your business as efficient as possible, while making a serious profit.
02 HOW CAN WE GET YOU THERE
Everything starts with the right partner
As you know, a good partner is crucial for the success of any great endeavor. In today's world, hardly anyone can do everything by themselves and maintain the highest level of quality.
That's why we are partnering with companies to design and develop software products that will maximize their efficiency.
Doing business more efficiently
If you have a special business process, we can make an analysis and create a custom software solution just for you. Everything will work just as you want it and you will gain a technological asset that will put you in front of your competitors.
Maybe you have multiple third-party solutions that just don't communicate well enough with each other. This ends up taking up a lot of your valuable time. We can improve that by making a solution that integrates all third-party systems behind a simple-to-use user interface. We did this to several Telecoms and the results were amazingly efficient.
In the end, your process will be maximally automated, your business efficient and your people will have more time to do things that generate more profit.
Selling more efficiently
When your product or service is ready, it's time to spread the good news to potential customers.
You need to talk directly to your customers and immediately present to them what is the value that they will get from you.
Say it through a beautiful yet simple-to-use website. There, your potential customers will get the most valuable information about your product or service and how it can help them.
Surely, you will have a beautiful landing page on your website.
When someone is interested, there will be special pages providing detailed information about your product or service.
It is also a good idea to write articles about how people succeeded while using your product or service. You will do this on your blog.
If you want, you can even sell your product or services directly from your website by setting up a webshop.
Once your website is ready, you can spread the word using social media or marketing ad campaigns. You can use other people's platforms to gain attention, but everything will lead back to your website.
03 OUR VALUES
Master craftsmanship
Perfecting what we do is both passion and pleasure.
Deep understanding, acting purposefully, constantly improving and great care make the foundation of the Enterwell craft. We all share these values.
Full clarity
In our dictionary clarity means understanding.
We believe direct and sensible communication is the key for delivering the right solutions and creating lasting partnerships.
Proud partnership
Good things come to those who collaborate.
You know what you need and we responsibly guide you towards achieving your goals using custom-made digital products. Tight, right?
Human touch
Work is important and we take it seriously, but we don't always take ourselves too seriously. When we say we are goal-oriented, it includes PES goals ⚽ too.
We take care of our colleagues and associates, communicate clearly and occasionally mix work with pleasure. It keeps us passionate, playful and connected. In one word – smiling!
04 PRINCIPLES OF THE CRAFT
Repetition until perfection
You cannot finish building anything that lasts without good foundations.
We have spent countless weeks, months and years perfecting our craft.
Using the right tools, the right way
First what, then how.
At the beginning of the project, we always ask ourselves what are the goals we want to achieve and what the project needs to accomplish.
Then we choose the technologies that fit best for the project and that will create the most efficient product.
The skill and expertise determine the value of the outcome, not the technology.
Learning from the best
To become one of the best, you need to learn from the best.
And keep on learning.
The fastest way to improve is to use the knowledge and techniques provided by the masters of the craft.
We constantly learn and implement the best practices in our everyday work. And we don't like to reinvent the wheel.