ENTERWELL PUB QUIZ
Brains and Brews
At Enterwell, we love a good pub quiz.
Many of our employees are pub quiz enthusiasts who bring their love for the game straight to the office. Our kitchen to be exact.
01 the kitchen
The wall of puzzles
There's this white board in our kitchen-dining room that we usually use for brainstorming. But almost every Wednesday, one of the employees puts up a puzzle on the board.
The most popular one is a word association game – 16 words, forming four columns. The aim is to guess what word connects each four words in a column, in order to get the four answers that will associate you to the final answer.
This game starts as an individual's quest, but quickly turns into a group effort that keeps us well entertained all throughout the lunch break.
But on some Wednesdays, our kitchen turns into a real (and competitive) pub quiz session!
02 enter the quiz
The Enterwell Pub Quiz
Once or twice a year, our pub quiz master Matej Radović (aka Rejd), creates an elaborate pub quiz experience for all the employees.
Since we have offices in two cities – Zagreb and Mostar – the pub quiz is also streamed online, so the whole team can participate. We divide into teams of four, prepare snacks and refreshments – and then brainstorm team names.
After that we're ready to roll, and we do get quite competitive throughout the game. One of the reasons must be prizes, which are always connected to the theme of the quiz.
The questions vary depending on the category: there's basic trivia, general knowledge, rebus puzzles, words association games and questions that are combined with music.
Since last year, there's been a new addition to the Enterwell's pub quiz mix. The quiz about music, film and TV. And it has a new pub quiz master – Petra Kovačević. Now, our team can play even more quizzes throughout the year.
And it's one of the best ways for us to bond. In rivalry. 😅
Jokes aside, hosting pub quizzes has been a great way for us to socialize after work. And enjoy drinks from our local breweries. 🍻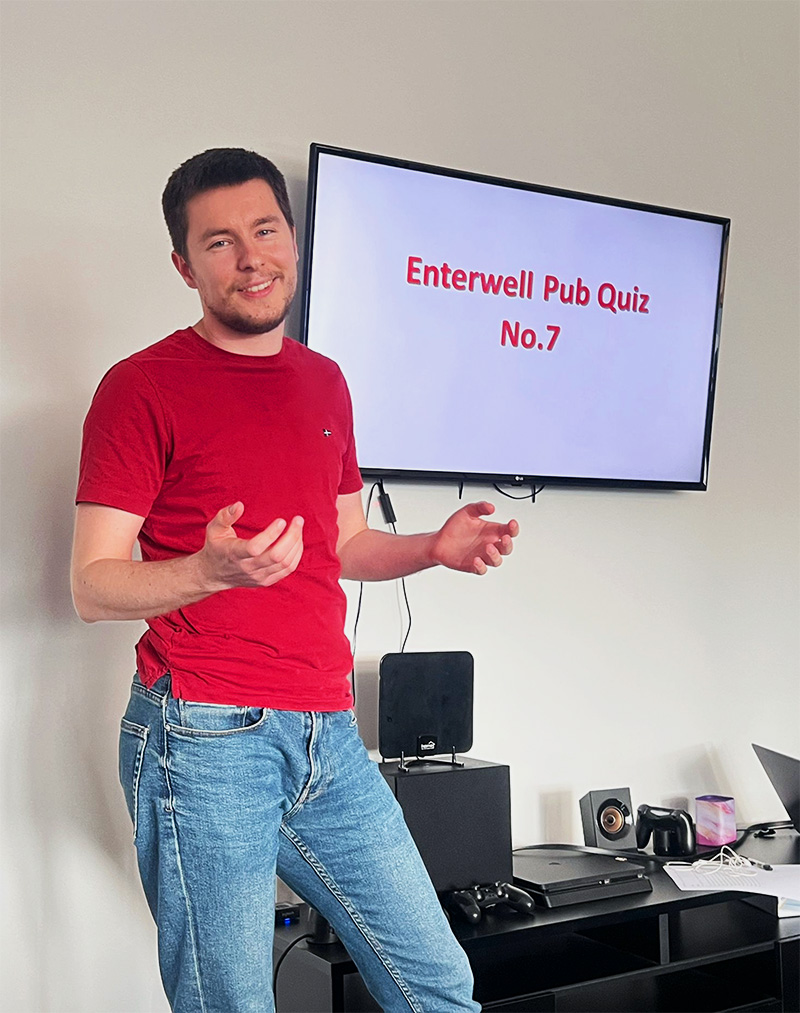 03 FOR TRIVIA LOVERS
If you got this far, here's a little fun fact
No one really knows where the word "quiz" came from. There's an entertaining tale about it being a result of – a joke.
As the legend goes Richard Daly, the manager of a Dublin theatre, made up the word as a part of a bet. He claimed that he can make the whole city talk about a word of no meaning.
In a day.
He then chalked the letters Q, U, I, Z, on the walls of the city and the next day, everybody was talking about it, wondering what the word ment.
Richard Daly won the bet.
There's a few versions of this anecdote and of course that raises suspicion about its accuracy. Nevertheless, it is a fun piece of trivia for you to use on your next pub quiz.
What's the best way to end this little story?
With something for you to solve!
It's a rebus puzzle – also one of the favorites from our office.
Let us know how you did! 😃